Innovation School
MDes Design Innovation & Service Design
Yabin Lu
By bringing together people, creativity, and reasoning, I help to design services and experiences for a favorable future. Interest in talking to strangers.
Contact
Projects
Collaborative Work
#I'm Open to Talk about End of Life
Problem
Conversations about death happen late, at moments of crisis, thus depriving people of the opportunity to openly discuss wishes and preferences, and leaving families to deal with the emotional and practical burden alone.
There exists a wide variety of support tools and resources that would help promote early end-of-life conversations and planning. However, the fear of talking about death makes it difficult to reach the people in need.
Proposal
A service framework that places the healthcare system in the leading role to start early and ongoing end-of-life conversations with patients and families, and connect them to support at the right time
To engage and communicate this proposal to NHS, I designed a physical toolkit that shows how interventions and new resources would create impacts. The toolkit could be used to prompt discussion and further develop the service with participants.
Project Links
Effective Policing
Problem
In Scotland, 4 in 5 incidents of forced sexual intercourse are not reported to the police. Police officers are perceived as best trained to ensure physical safety, but tend to ignore emotional safety. Victim-survivors face difficult challenges when navigating the emotional landscape of reporting sexual crimes.
How might we foster a safe space for victim-survivors reporting sexual crimes?
Proposal
Our proposal is a central hub support system that provides transparent, trauma-informed information to victim-survivors and gives them full agency over whether and when to report.
Project Links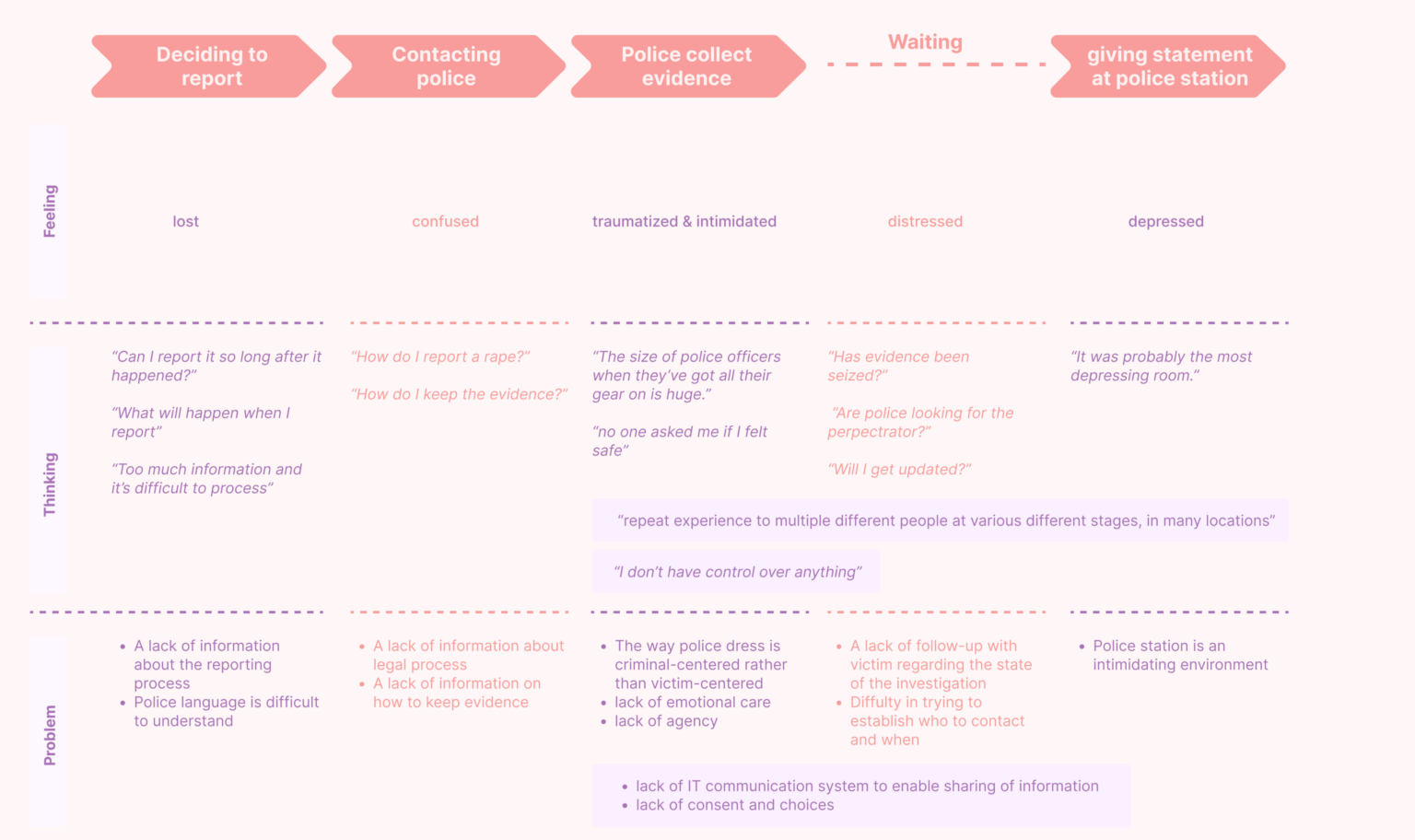 The Exchange: Making meaningful connections through exchange
Problem
Cumbernauld, like many New Towns, lacks a 'heart'. While locals can't seem to agree on what's missing – from adequate  nightlife, transport, to housing – they are united regarding the uncertainty of their future there. Cumbernauld is suffering an image problem; it is in desperate need of a community-led revival, not another overpromising plan.
Process
We found out how people experience and perceive Cumbernauld – from local residents young and old, students from nearby, to business owners, and charities. Using probes and conducting co-design workshops at a community hub, we discovered that while Cumbernauld as a whole receives negative attention, a majority was centred around one neighbourhood – Carbrain. Our proposal aims to address immediate concerns and relief for Carbrain, while providing a reason to care for Cumbernauld in the long term.
Proposal
Our proposal champions the exchange of ideas, aid, and gifts – strengthening community by providing a space where meaningful activities and learning can take place. Using Cumbernauld's railway station's strategic placement to signpost to third-sector and commercial organisations, The Exchange supports deprived communities today, and cares for future generations tomorrow.
The Exchange is a service design proposal with UK New Towns in mind, and Cumbernauld at its heart.